Stonini Rammed Earth Panels
Stonini's new "Rammed Earth" panels are an excellent choice for adding subtle visual earth tone texture, to feature walls. They are typically supplied in base colours created with Iron Oxides for a natural look, then sealed or painted in acrylic Dulux colours of your choice. Either way, the panel create the impression of varying tones in colour as the light reflects off the different textured layers.
Being only 12mm thick, it is extremely lightweight compared to traditional structural rammed earth walls and can be adhered to existing plasterboard walls or any masonry wall.
The panels can be supplied in a raw, Clay, Ivory, Sand, Grey or Earth Brown base. From there they can be sealed with a clear sealer or painted any Dulux colour.
What is rammed earth and how is it made?
Rammed earth involves compacting a moist mixture of soil placed in a formwork set on a stable foundation. The raw material can be taken directly from the construction site or carefully selected to achieve the desired appearance and properties. Material is placed in the formwork in layers of 10-15cm and then compacted dynamically using a traditional or mechanised pneumatic tamper.
It is also possible to create interesting aesthetic effects by using the soil of different colours and/or adding pigments.
After appropriate compaction of one layer, successive layers are performed until the planned height of the element is achieved. Compacting the layers serves to reduce the porosity of the material, which increases its strength. Obtaining a wall with the appropriate durability depends on the mixture of soil used and the stabilising additives applied. The technique of rammed earth does not require mechanised equipment, although its use shortens the time of building walls. Such a wall usually has a thickness of about 30-50 cm and a significant bulk density, which means that it accumulates heat, but it is a poor insulator.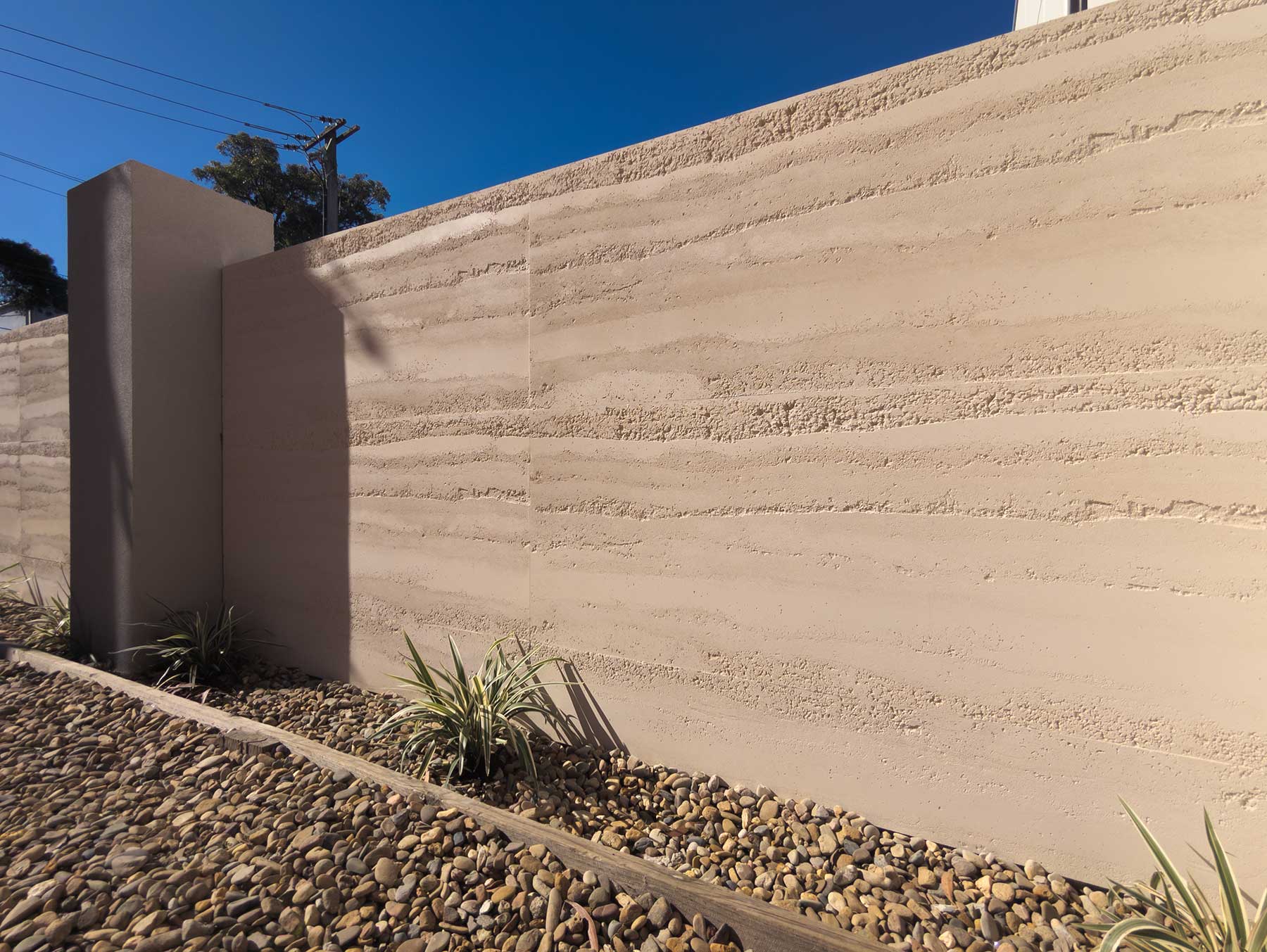 What are lightweight rammed earth wall panels?
Lightweight rammed earth panels are precast, moulded from decorative composite materials and delivered to the building site as decorative cladding for interior or exterior walls.

Lightweight rammed earth decorative wall panel
Traditional rammed earth vs decorative rammed earth panels – which one is better?
Both methods have their own advantages and disadvantages, but precast decorative wall panels are considered more efficient, faster to install and more cost-effective. Here are some points to consider when choosing between these two options:
The cost of rammed earth formwork can be significantly higher than installing decorative wall panels.
Rammed earth is a poor insulator. If insulation is important it is better to choose a different material for construction such as Hebel – which has good thermal efficiency. Decorative panels can be installed on top of Hebel to achieve the rammed earth effect
It is impossible to fix imperfections and change the wall appearance after the walls are built using formwork. Moulded rammed earth wall panels are more consistent in appearance and are fault free. There's also a possibility of colour manipulation to achieve a custom effect. Panels are selected prior to installation so there's no risk of having surface imperfections
Rammed earth construction is often limited to low-rise buildings. If an alternative building method is used, wall panels can be used for cladding external and internal walls regardless of the height of the building
Curing rammed earth takes a long time, while installing decorative wall panels can be done much quicker
Contact Stonini Wall Panels today at (02) 9833 1157 to discuss your rammed earth project requirements and receive a complimentary quote.